NW Tasmania Coastal Drive
Port Sorell, TAS, Australia; Shearwater, TAS, Australia; Squeaking Point, TAS, Australia; Northdown, TAS, Australia; Wesley Vale, TAS, Australia; Latrobe, TAS, Australia; East Devonport, TAS, Australia; Don, TAS, Australia; Lillico, TAS, Australia; Turners Beach, TAS, Australia; Ulverstone, TAS, Australia; West Ulverstone, TAS, Australia; Penguin, TAS, Australia; Preservation Bay, TAS, Australia; Sulphur Creek, TAS, Australia; Heybridge, TAS, Australia; Chasm Creek, TAS, Australia; Burnie, TAS, Australia; Parklands, TAS, Australia; Camdale, TAS, Australia; Somerset, TAS, Australia; Doctors Rocks, TAS, Australia; Wynyard, TAS, Australia; Table Cape, TAS, Australia; Flowerdale, TAS, Australia; Preolenna, TAS, Australia; Boat Harbour Beach, TAS, Australia; Sisters Beach, TAS, Australia; Rocky Cape, TAS, Australia; Detention, TAS, Australia; Edgcumbe Beach, TAS, Australia; Crayfish Creek, TAS, Australia; Cowrie Point, TAS, Australia; Black River, TAS, Australia; Stanley, TAS, Australia; Smithton, TAS, Australia; West Montagu, TAS, Australia; Woolnorth, TAS, Australia; Marrawah, TAS, Australia; Redpa, TAS, Australia; Arthur River, TAS, Australia; Temma, TAS, Australia; West Coast, TAS, Australia; Trowutta, TAS, Australia; Mawbanna, TAS, Australia
Est. 536.9km / 3 days /
Map
The north west coast of Tasmania extends from Port Sorell in the east to Cape Grim - the north-west tip of the state. Bass Highway follows it all the way from Devonport to Smithton, though it is possible to do sections of the journey on what is the old Bass Highway. These sections, which this drive follows, stick closer to the coast and therefore take much longer, but incorporate numerous stretches of scenic coastline that are missed by sticking to the highway.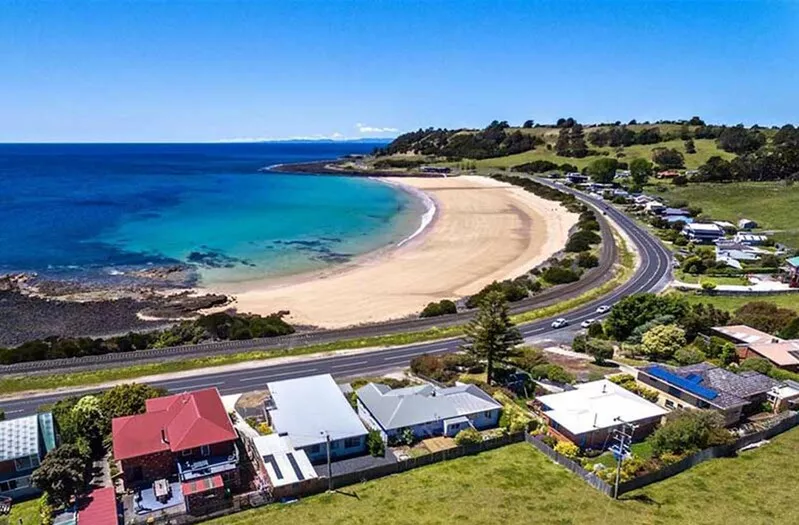 This drive has been broken down into three sections:
Day 1: Port Sorell to Burnie
Day 2: Burnie to Smithton
Day 3: Marrawah and The Tarkine
Get the best experience with the app
The Cya On The Road app gives you an itinerary of 63 hidden gems with fascinating stories, complete with audio guides, maps, top rated nearby hotels, cheap flights, car hire deals, attraction discounts and the best local eats.
Get the app now and search for NW Tasmania Coastal Drive.
Share with mates